My profile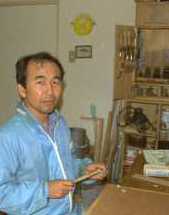 I have been making wooden furniture for 13 years at my small shop in my house. My house is in the south area of Kyoto.
After I learned Japanese traditional woodworking for 2 years, I began to make my original furniture.
I have been a networker for several years, and I could meet many friends. I am a stuff of PCVAN furniture forum,and Niftyserve DIY forum.

In 1994, I went to Sweden to enter the summer seminar of Cappella-garden, the famous craft school, founded by Carl Malmsten. I also went to US to see American woodworking with my friends in 1996. Particularly I can not forget Cappella-garden.
And I sell some natural oil, natural wax, and Kakisibu. Kakisibu is a traditional finishing material for paper, cloth, and wood. It is very safe and drinkable. It is also used as a medicine. Japan wax is a traditional wood wax. It is also used for the hair setting of Sumou wrestler.